The Top Cities and Towns In Orange County, North Carolina
Orange County is a common county name. You can find an Orange County in New York, California, Florida and maybe somewhere else. But Orange County in North Carolina stands out from the rest. It is a beautiful county with a couple of cities, towns,townships and numerous unincorporated communities.The top cities and towns include;
Hillsborough
It is obvious for Hillsborough to be at the top of the list since it is the county seat. Despite being a town and yet there are cities in the area, it is the main economic hub of the county. Hillsborough is an old town that was established in the year 1754. Originally, it was owned by a surveyor known as William Churton. It was named after the Earl of Hillsborough who was the British Secretary of State. Currently, it is a steady town with a robust economy.
Chapel Hill
Even though a portion of Chapel Hill is in Durham County, most of it is found in Orange County and therefore it is considered part of it. It is the largest town in Orange County with a population of over 57,000 people. It also ranks as the 16th largest amongst all the municipalities in the state. It is part of The Triangle together with Durham city, Raleigh City and the three main universities in the area. Chapel Hill is one of those municipalities where it's hard to tell whether it is a city or a town due to its importance in the county.
Durham
The city of Durham is the seat of Durham County. However, a portion of it extends into Orange County therefore it contributes to its economy and development. Durham is the core city in all the four counties found in the Durham-Chapel Hill Metropolitan Area. It is part of the Research Triangle and is home to two major universities; Duke University and North Carolina Central University. It was once ranked by Forbes as one of the best places in America for business and career.
Carrboro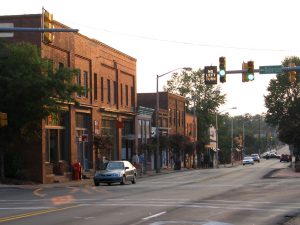 Carrboro is a relatively small town found entirely in Orange County and was established in the 1880s. It has a residency of about 19,000 people and was named after Julian Shakespeare Carr who was an industrialist from North Carolina.Aside from being directly west of Chapel Hill, it is regarded as one of the most rapidly developing communities in the southern part of the country. Mike Nelson was the first openly gay mayor to be elected by this town in the whole of North Carolina. Carrboro is a beautiful town with numerous attractions and a wonderful social life.
Each Orange County is unique on its own. This Orange County in North Carolina is made up of small, individual areas which collectively contribute to its uniqueness. Once you are a resident of this county or just passing by, you will never run out of cool places to visit. You can be sure that by the end of your tour, you will be amazed.